AR Page Cartridges Case Gauges Headspace Information Marlin Lever Guns Service Rifle Loadings
Downloads Page Chamber Test Loading Precision M1 Garands Powder Primers Sight Tools
Images 10 Images 11 Images 12 The 45 Page
Welcome!
A little about this website is in order. The name itself is based on a dog named Bear and since the last name here is Blain the dog is Bear Blain. The website was started years ago more as an experiment than anything else. I believe it was about 10 years ago. Originally the web was based on an imaginary company named Bear Products and structured as a mock corporate website. The original website grew with literally hundreds of pictures of people's pets and each pet working in various departments of a non-existent company. Originally we had three dogs (like kids) who were Bear, Lucky and Sarah. Over the years we have lost both Sara and then Lucky, both were great pets and lived to about 17 years old. Bear at about 12 years old is still with us and the newest addition is Brandy who we have had a few years now. Though it was amusing and fun the intent of the original site was for experimentation purposes. The server was busy running many behind the scenes applications.
Over the years things have changed. Today the server that host this web is still busy doing many things and another server and website have been since added. I tend to spend more time with the newer site than here. That is my excuse for the total disarray of this web site.
The pages and pictures contained here likely don't make any sense to the casual visitor. They are "stuff" I link to for various reasons. There are several computer and electrically related pages which I also link to on occasion. The feedback page does work and to those who have written and sent email thank you for noticing this place. Just remember if things make absolutely no sense they are not intended to make sense.
On A Sad Note:
On Friday September 3rd 2010 we finally had to say goodbye to our beloved Bear. Bear was an incredible dog to say the least and we will miss him dearly. His life with us from puppy to old age spanned over 14 great years. He did well for his breed as to longevity. During the 23 years that Kathy and I have been together this house has always been blessed with great dogs never fewer than two and as many as three. When I met Kathy she had Dinky and Sam, I added Natasha to the mix. Since those days there have been Dinky, Sam, Natasha, Sara, Lucky and Bear. Each one with their own unique personality and each one brought so much joy into our lives. We will miss Bear dearly as there will never be another Bear. Like all the others he will live in our hearts forever and continue to provide laughs. Hard to believe when this website began Bear was a tiny ball of puppy fur. I am really going to miss that dog but I am sure the local Cuyahoga County Kennel has many dogs that need a good home and we happen to have one. Seems every time a great dogs leaves us following a few weeks of "No more dogs" another dog seems to happen. Must be a destiny thing?
So who are Brandy and Bear?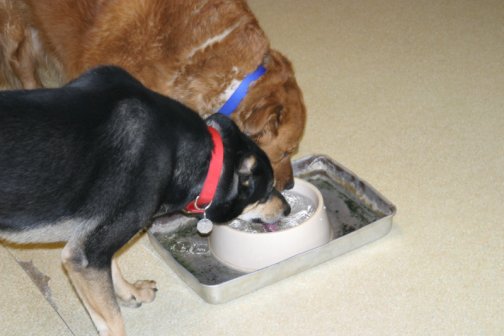 Bear is the dog who resembles a retriever. Interesting since the dog hates water huh? However as can be seen they get along very well sharing the water bowl. That was a concern when we got Brandy from the shelter. I guess any concerns were quickly dispelled. Bear came to us as maybe a 10 week old puppy, we have no clue what his origin was but for 12 years he has been a great loyal pet. We aren't sure what Brandy is, maybe some shepherd and who knows what? Bear's current diet has him down to about 100 pounds from the 125 pounds he weighed in at. He sure grew from the small ball of fur he was.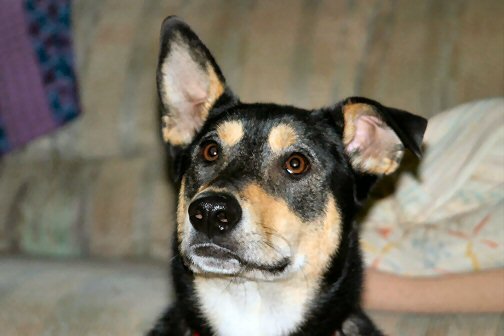 This is Brandy a few days out of the shelter. Every dog we have had share in our lives was a pound puppy of sorts. The lure of a pedigree was always there but we just feel why break a tradition? These wonderful dogs need a home and we happen to have a home to share. Most of them are very loyal and protective pets who just need a family.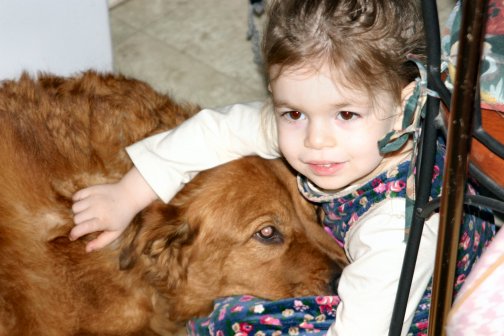 Pictured here with Bear is Alexis. Alexis who is a 4 year old granddaughter formed a bond with Bear we will never understand. It was like Bear (a fixed male) has this maternal thing about her. She can drag him all over and use him as a pillow. She literally naps on him and he won't move until she wakes. The only time in his life I saw Bear become aggressive was on a day when my daughter Renee made the mistake of trying to discipline Alexis with a spanking in front of Bear. With my daughter screaming Dad I walked into the room to find he had cornered her placing himself between Alexis and her mother. I guess we can say Bear is somewhat protective of his friends? Renee has since learned it is unwise to discipline Alexis in the immediate presence of Bear.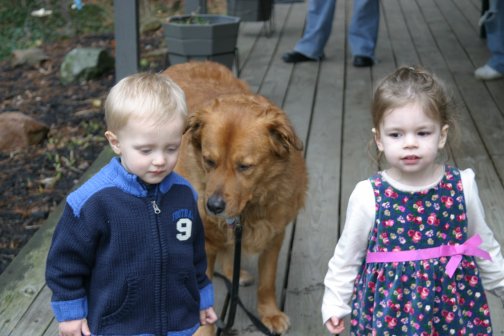 Pictured here with Bear and Alexis is little Michael my grandson and the son of my son Michael. Michael follows Alexis by about 6 months in age. Little Michael is another incredibly cool kid and as can be seen, Bear lurks in the background. Bear is leached because the picture was taken in my mother's unfenced yard. Little Michael is also very gentle with the dogs, I am pleased that my own children have taught their children well when it comes to not just dogs but all animals.
To contact me just do the old CLICK HERE thing!
Using the above link should open your email client, feel free to send an email my way!